Digital Marketing is emerging as in-demand skill across the globe. A career in Digital Marketing is considered as a highly growing career worldwide. According to the "Business Insider & Economic Times Survey, digital marketing is in 9th place out of 10 most in-demand skills.
If you drive digital marketing, it is the internet based marketing which use digital channel to reach a potential customer. Digital channels are a website, social media networking sites, Email, blog etc. These digital channels are extensively in use; the reason is the growth of internet which subsequently increases digital marketing career opportunities.
The Wave of Internet – A picture says a thousand words
It is showing how the trend of digitalization is spreading.  50% of world population is well connected with the internet. 66% of world population is active on mobiles and 37% are actively participating in social media activities.  These grown stats are pointing towards the digital revolution as well as the growth of digital marketing career.
As James Manyika, Director of McKinsey Global Institute, rightly says "The Digital Revolution Is Making The Job Market Work For You". He also says that "Online talent platforms could boost labor markets".
India playing significant role in Digitalization
Digital Marketing was a new thing for India till 2010. There are only a few brands utilizing the digital platform for marketing. In 2013 only 16% of total population was using the internet, this number grew to 31% in 2014. More than 40% of business depends only on digital marketing.
As the internet users are increasing worldwide, the number of internet based business is also growing exponentially which leads to the growth of digital marketing career.  Voceduonline.com is striving to bridge the gap between demand and supply.
Now the internet is being accessed by more than 50% of the population. These internet stats are directly affecting the business and the way of marketing. Now digital marketing has been playing a vital role for all small & big businesses to earn more revenue at low marketing expense.
It has become a necessary requirement of business. This positively affects the growth of digital marketing career as a resulting career in digital marketing is flourishing. This new vertical also need trained professionals who can cater the increasing demand. 
As per ASSOCHAM report in January 2016, the e-commerce industry in India worth USD38 billion, it grew 67% as compared to 2015 which was USD 23 billion. Also, Morgan Stanley revised their estimate of Indian e-commerce Industry from $102 billion to $119 billion.
The digital advertising grew notably; a report by GroupM the digital advertising account has grown and recorded 12.7% in 2016, while in 2015 it was 9.9%.
Demand and Supply of digital marketing professionals
Everyone is the witness of growth of digital marketing career.   Almost every single brand has considering digital marketing for their growth and placing digital marketing strategy in their marketing plan. Nevertheless, struggling to hire trained professionals who can execute these strategies.
The demand of trained digital marketing professionals is continually rising. But there, not enough candidates to fill these demand. As a result, demand has crossed the supply limit and created talent gap.
Digital Marketing Career Opportunities
Digital marketing was neither important for marketing strategies for business nor a career option till 2010. Nevertheless, as the business & consumers shifting their focus towards digital platforms, now it has become important for marketing plan of businesses as well career options. The career in digital marketing has considered a highly growing.
The demand for digital marketing professionals is clearly visible on every single job portal.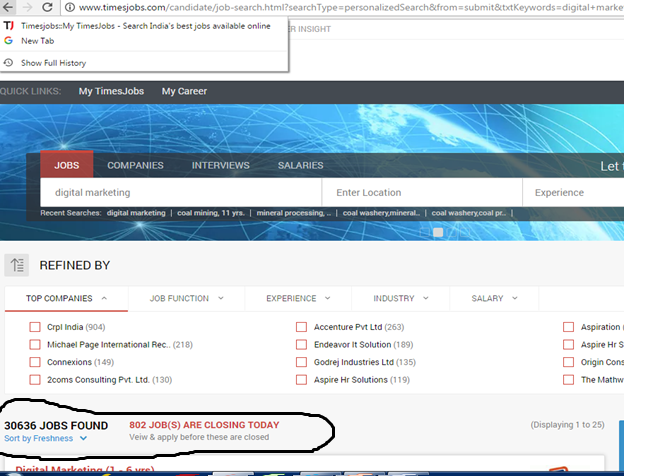 Diverse Jobs in Online Marketing
As the digitalization is spreading the wings worldwide, the demand for skilled and knowledgeable professionals in online marketing space has been growing continuously. 
Most popular jobs in the online marketing space fall in the following categories:-
Digital Marketing Executive

Digital Marketing Analytics

Content Strategist

Conversion Rate Optimization

Digital Media Manager

Digital Marketing Strategist

E-commerce Specialist

Social Media Marketing Manager

SEO Expert

Adwords Manager